Heatmaps start collecting data as soon as the Hotjar Tracking Code is installed and session capture is enabled. Data is collected across all pages on your site that have the Tracking Code installed and there's no need to manually set up individual Heatmaps for each URL. In this article, we'll step through how to set up and view Heatmaps.
If you're getting started, you can run through the set up in the order presented, starting at Step 1 below. Otherwise, you can use the links below to skip to a particular step.
Watch an overview of Continuous Heatmaps
Further resources for topics mentioned in this video:
---
Verify that session capture is enabled by clicking on the traffic coverage widget in the top-right corner of the page.
The traffic coverage widget shows you information about your daily session capture settings, which apply to both Recordings and Heatmaps. If session capture is not enabled, you'll see a yellow Session capture is currently disabled message at the top of the page. Clicking on the link inside that message to Enable session capture in Site Settings takes you to the session capture configuration page.
Only team members with Admin permission levels can edit your session capture settings. To learn more, see our article on Configuring Site Settings and our article on What is a session? to understand how sessions and traffic coverage work.
From your Heatmaps page, select the Heatmap URL filter to be used for generating the heatmap.
If you've never generated a heatmap before, you might need to click New heatmap first. Heatmaps can show data from a single, specific URL or from a group of URLs that match your targeting criteria. When showing data from a group of URLs, you'll only see one screenshot for your heatmap, but the data that appears over the screenshot will be aggregated from all the URLs matching your targeting criteria.
Listed below are the six options that you can choose from.
URL is
This is the default match type and is used to target a specific page on your site, ignoring any query strings and fragments that might get added, as well as ignoring the protocol, HTTPS, and the presence or not of 'www'.
URL is exactly
Displays data from users who visited a specific URL, including the protocol and any query strings and fragments.
URL contains
Displays data for all URLs which contain the entered text. This rule is case sensitive.
URL starts with
Displays "Exact match" results for all URLs that begin with the entered text, including the protocol.
URL ends with
Displays "Exact match" results for all URLs that end with the entered text, including strings and fragments.
URL matches regex
Displays data for all URLs that match the provided regular expression.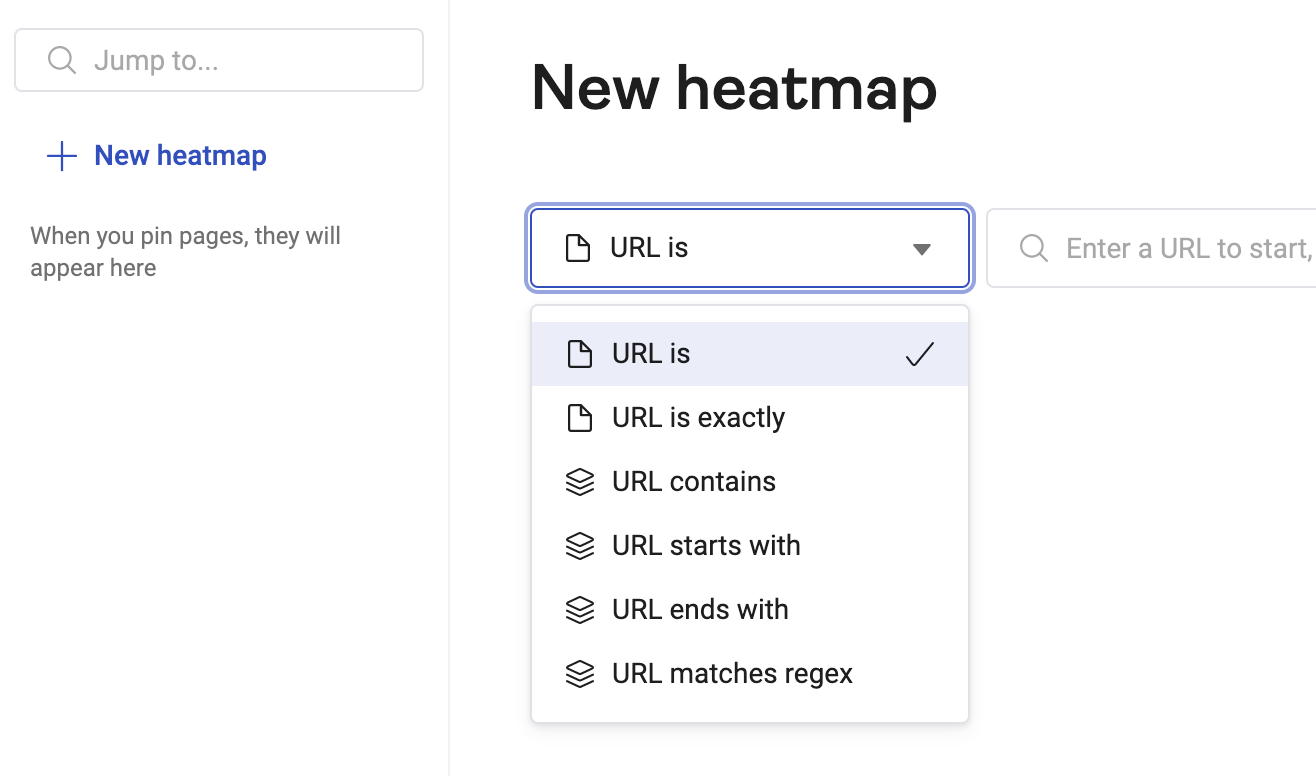 Enter a URL from your site and click View heatmap.
If you've never viewed a Heatmap before, you may need to click on a Find heatmaps button before you can enter a URL.
After entering a URL and clicking View heatmap, the Heatmap should appear in less than 90 seconds.
Why am I not seeing a heatmap for the URL that I enter?
If you're not seeing any results on desktop, check the tablet and mobile tab.
If no data is being returned for your heatmap, check to see if you have any recordings for the URL you want to view. If you have no recordings, this means that there is no data for this URL.
If using Single page with Exact match for the data grouping setting (described in Step 2 above) make sure you enter the URL exactly as it appears in the browser, which may include a trailing backslash, or protocol (HTTP or HTTPS).
If the page you're trying to view a heatmap for has dynamic or slow-loading content, our screenshot tool may have issues showing a complete screenshot. This is a current limitation with Heatmaps that our team is working to address.
A common reason is having Session Targets set that do not include the URL you entered
Update the date range filter and add any Heatmap filters to display only those sessions that match your filtering criteria.
For more detail on all the available Heatmap filters and example use cases, see our article on What are Continuous Heatmap filters?