Common questions, tips, and help with Heatmaps:
Try retaking a screenshot for slow-loading pages with an incomplete screenshot
Heatmaps can have difficulty capturing a complete screenshot on pages with dynamic or slow-loading content, or content that is revealed as the user scrolls down the page. For details on how to manually load this content and take a new screenshot, see our How to Update a Heatmap Screenshot article.
---
How can I retake my heatmap's screenshot?
Screenshots are taken from the last recording found in the date range you've selected for your heatmap. You can refresh this screenshot or choose to load your site and manually take a new screenshot of the relevant page. For help with this, see our How to Update a Heatmap Screenshot article.
Why can't I see a heatmap for some of my pages?
Heatmaps are based on sessions, which means you need to have captured Recordings on pages that you want to view a Heatmap.
Here are some things you can check if you do not see a Heatmap:
If using Single page with "Exact Match", make sure you enter the URL exactly as it appears in the browser, which may include a trailing backslash, or protocol (HTTPS or HTTP).

If you're not seeing any results on desktop, check the tablet and mobile tab.
What is the retention period for Heatmap data?
Heatmaps have a retention period 365 days starting from the date of capture. Learn more about our data retention periods in our article on How long does Hotjar keep my data?
What happens to my Heatmap data if I delete Recordings?
If you delete a Recording, then any associated Heatmap data will be deleted.
Heatmaps are based on sessions (Recordings). During a single session, a user may have visited multiple pages across the site. For example, you may see a Recording where the user visited one page, five pages or ten pages during the same session.
If a user visited five pages during a session and the Recording for those visits is deleted, then the Heatmap data associated with those page visits will also be deleted.
How do I compare Heatmap data before and after a design change or product release?
The Custom Date Range feature allows you to view Heatmap data for a date range that you specify. This is useful if you want to compare Heatmap data before and after a design change, a product update, or a marketing campaign.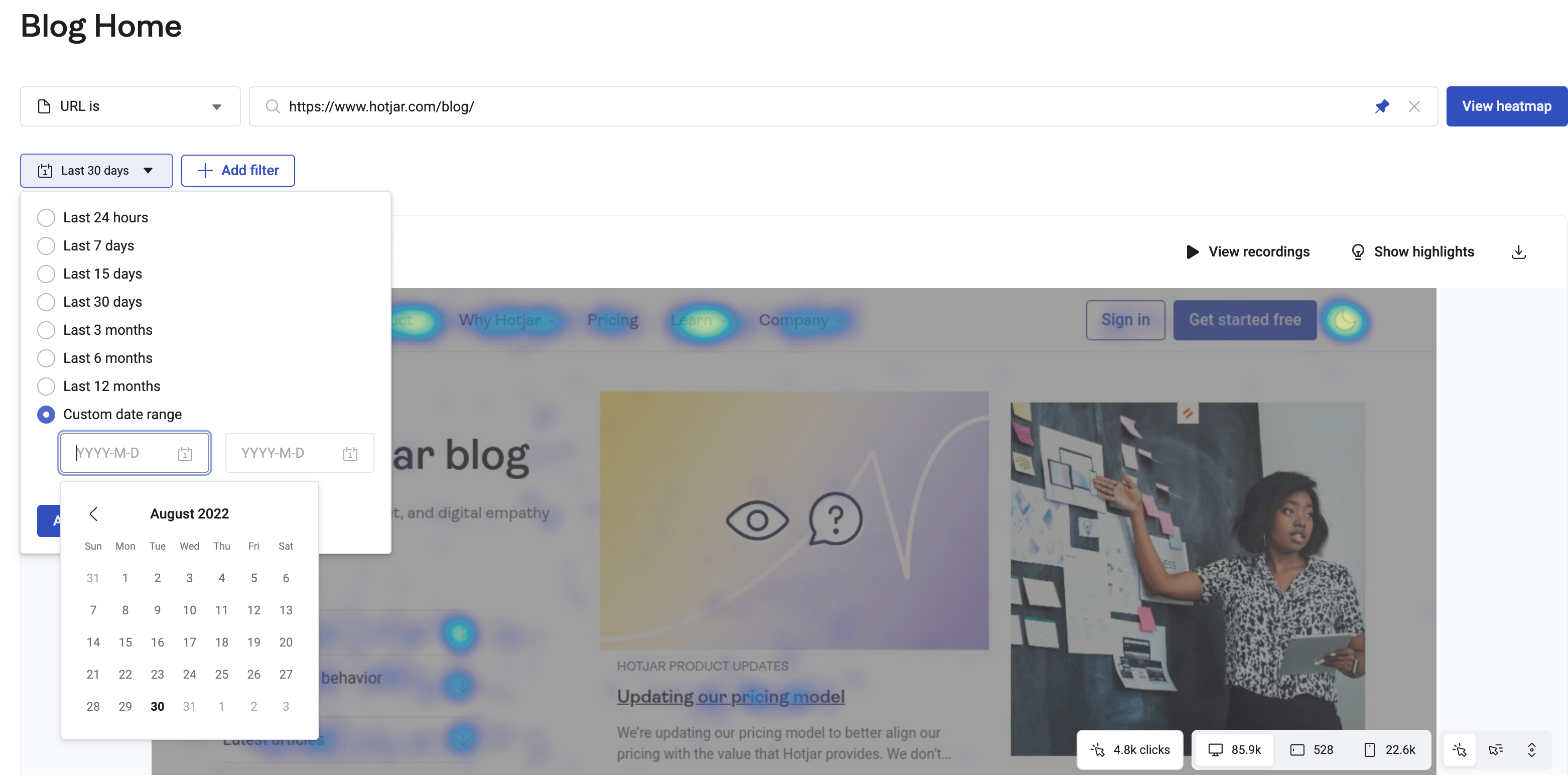 Hotjar will show you a cached screenshot from within the date range you select. If there isn't a cached screenshot from that date range, Hotjar will generate one from the latest date that has an available Recording.
You can also generate your own screenshot using the Update screenshot button.
Does the "Showing x sessions" count seen in Heatmaps refer to all sessions that visited the Heatmap page, or only sessions where the Heatmap collected data?
Since Heatmaps are session-based, the "Showing x sessions" count will include all tracked sessions where the user visited the Heatmap target page, even if that user did not interact with elements on the page itself. (ie. if they landed on the page, but left without scrolling or clicking on anything)
This means that a Heatmap may display "Showing 1000 sessions", even if only 800 sessions contributed click/move/scroll data to the page you're viewing in your Heatmap screenshot.