Hotjar's Surveys allow you to ask your site visitors or customers an unlimited number of questions. Additionally, you can invite people to fill in your survey directly from any page of your site and based on a behavior - for example, after a short delay or when they are about to leave the page.
---
The Survey Page
The Surveys are hosted on Hotjar's website. When creating a new Survey, you will be provided with a URL which you can give to users directly, such as including it in a newsletter email send out. You also have the option to invite your site's visitors directly from your site.
Survey invite (popup)
If you set up your Survey to show an invite on your site, your visitors are shown a central pop-up asking them to participate in your Survey. All the text within the popup is fully customizable, including the buttons. The options your visitors have are the following:
Take part in the Survey
When clicking the button (1), the popup will close and a new tab will open in your visitor's browser opening the survey page.
Dismiss the modal and do not participate
Not all of your visitors will be eager to participate, so they can click on the highlighted buttons (2 and 3). This will close the popup. 
A cookie remembers which Survey Popups have been closed.
When a visitor agrees to participate or not, Hotjar stores a cookie on their browser to remember this. This is done so that the same Survey does not show twice to the same visitor, even if they navigate to a different page where the same Survey is set to show. Learn more about the cookies we store.
Types of questions you can ask participants
Hotjar Surveys support a range of question types that can be grouped as follows:
Text questions
Radio button questions
Checkbox questions
Rating questions
Net promoter score (NPS) questions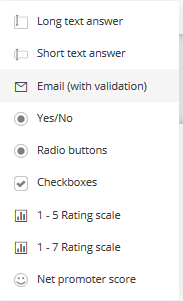 Text answer questions: 
You have three options here:
Short text answer
Long text answer
Email (with validation)
Short and Long text answer questions all have a similar configuration box. The main difference is in how they appear to the user. Email questions have email validation to ensure visitors submit email addresses that meet basic requirements for working email addresses.



When previewing the survey with these questions, they appear to the visitor like this: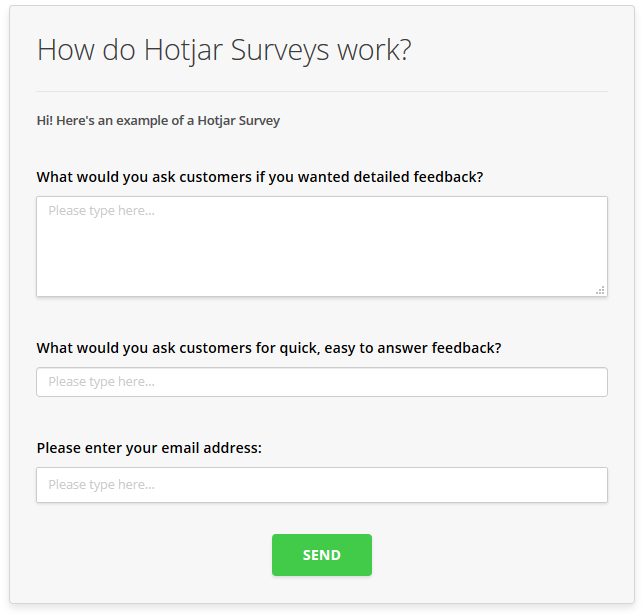 Radio buttons
Radio button questions come in two forms:
Yes/No questions
Radio button questions


With radio questions, you have the option to randomize question order to help reduce bias in results. By clicking on the speech bubble, you can allow visitors to add written comments on their answer. 
Here's how they look to the survey respondent: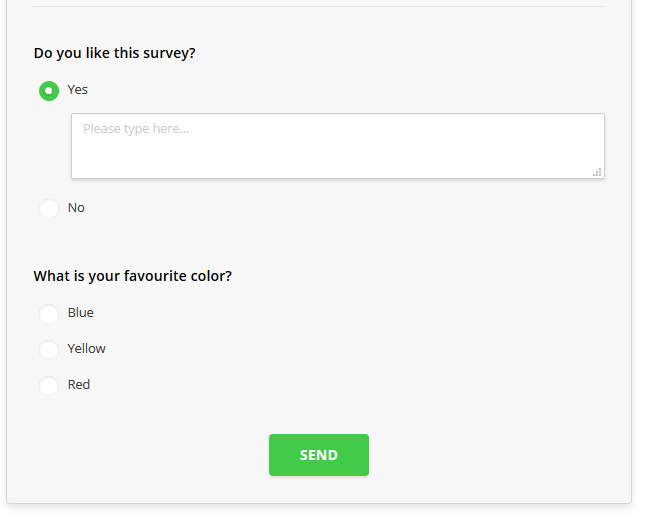 Checkbox questions:
Checkbox questions allow you to set a series of multiple-choice questions. You can randomize question order to reduce possible bias in results, or click on the speech bubble to allow users to add comments on their answer.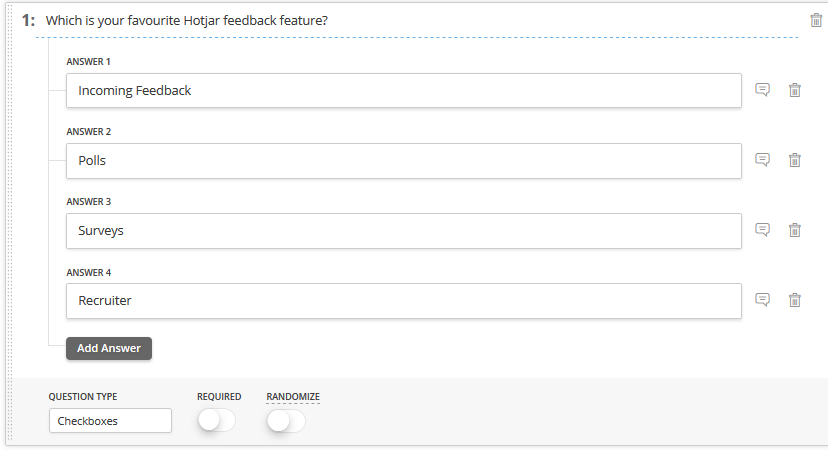 Here's how the same checkbox question would appear in the survey to the respondent: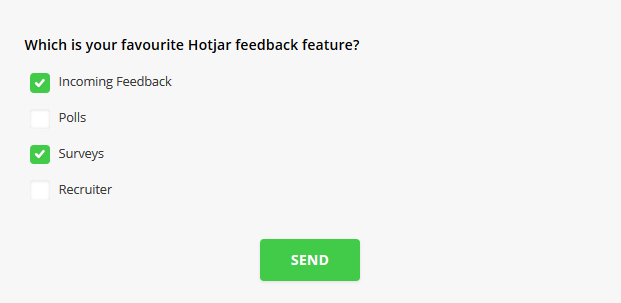 Rating scale questions:
Rating scale questions allow you to rate something from either 1-5 or 1-7. The interface for each question type is the same, the only difference is how they appear to the user.

Below, you can see how the two question types differ: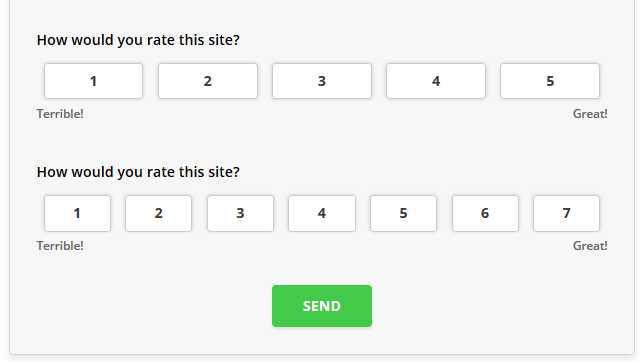 Net Promoter Score:
NPS Score questions are similar to rating questions, though it is designed to let you see what people think of your site or product over time. You can see more about what NPS surveys can tell you here on our blog: https://www.hotjar.com/blog/tracking-your-nps-over-time-just-got-easier 

Here is how NPS scores appear to the respondent:

As people complete this question, you get detailed information about responses to this question over time.
You can read more about running an effective Net Promoter Score survey here on our blog: https://www.hotjar.com/blog/set-up-nps-survey-ecommerce 
Required questions
You can require respondents answer any question in your survey by clicking on the "Required" toggle in the question interface.
Options summary
The list below is a complete list of all the customizations and options available in every Survey:
Unlimited number of questions you can ask in a single Survey
Five different question types, including freeform comments and randomization of answers for close-ended questions
Ability to enable a Survey invite directly on your site on an unlimited number of pages
Thank you message customization
Three Device targeting options - Desktops, Tablets and Phones
Four Behavior Triggers - Learn More
Over 35 languages, including right-to-left languages such as Arabic and Hebrew
Ability to hide Hotjar Branding on BUSINESS plan only - more information about pricing here